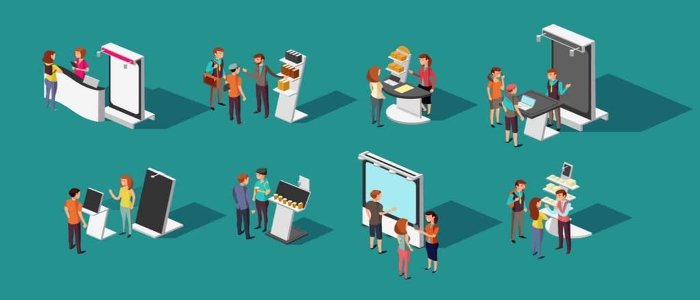 Trade show is a platform where people of the same industries come together to showcase their products. This also provides network opportunities for viewers as well as exhibitors to make a connection with each other.
Businesses require a well designed booth during trade shows to attract people and leave a long lasting experience for months. Trade Show marketing can also be quite expensive as it includes various expenses like renting space, transportation cost, expense for booth designing, accommodation charges and taking the original product etc.
Trade Shows have changed throughout time. They've progressed beyond the traditional convention centre product displays, carrying cases, and pamphlets. With considerable developments in visual presentation aids, technology is increasingly driving the tradeshow sector to greater levels.
It is also very important to justify the ROI.
Benefits of visual technology
Today visual content is creating a greater impact on trade show booths rather than static display or written content with the help of developing digital innovations. Video is one of the branches of visual technology that has the ability to create experiences that are seamless for audiences as well as sales teams at the booth. It also has the ability to transfer the information in a more simplified manner. Numerous studies have demonstrated the usefulness and effectiveness of using videos in trade show marketing strategies. The amount of online consumers that watch video is vast and increasing, according to internet data firm ComScore. In the United States, around 200 million individuals view and absorb web videos. The figure is much higher on a global scale.
You are going to agree that explainer videos are very helpful aids that have the ability to hook viewers and explain the complicated product with ease.By increasing product recognition, driving booth traffic, and generating more sales, video marketing may give your organization a boost. Studies have observed that on average, trade show participants spend more than eight hours moving between booths. Although eight hours may look like a long time, huge trade exhibitions may sometimes house over 800 exhibitors. This shows that in order to justify the ROI your booth needs to stand out in all.
3D engineering animation
Audiovisual technology has recently shown to be among the most effective in engaging attendees to trade shows. Audiences at trade shows want to be tempted and intrigued by exhibits, and video is a great way to do this. 3D engineering animation is a new audiovisual technology that may statistically clarify complicated concepts and manufacturing techniques that are normally hard to picture.
3D engineering animation has the ability to offer your exhibits a unique edge and make them look professional. These animations can use fascinating images and graphics to highlight complicated material. As a result, leveraging this technology to better sales and marketing methods during trade shows is a fantastic business concept.
3D engineering animation helps to deliver an extended reality experience.
Engineering animation clips can assist you leave a lasting impression on attendance, connect them, and tell your product's story. Above all, 3D engineering animation provides a virtual reality experience. Virtual reality, artificial intelligence, and augmented reality all fall under the umbrella of extended reality.
These clips are made by animation engineers and other specialists who understand how to use the key capabilities of modern developing technologies like AR (Augmented reality) and VR (Virtual reality) to give a reality experience. These clips are built to scale and are based on authentic designs. These clips allow visitors to travel to spots that are literally impossible to visit, such as manufacturing industries in remote locales or portions of a manufacturing plant that are potentially dangerous to visit.
3D engineering animation videos can be used to create an immersive and engaging virtual reality experience for the audience. To put it another way, these videos may take your audience to your factory, sales floor, manufacturing facility, and even beyond. You may exhibit degrees of detail in your product that you might not have been able to show off before.
You can truly bring any of your items to reality on the trade show floor with these films. Why go through the hassles of transporting large, bulky, and expensive items to each and every trade show when you can easily avoid that by opting for 3D animation. Additionally, the extended reality practice enables your potential consumers to rotate the product 360 degrees to view all aspects of it. This allows them to compare the benefits of your ware to the competitors while also studying about the developments you've achieved and the reason why your items are the best options.
Closing
With its eye-catching visual appeal, 3D Engineering animation videos can help you gain more visitors to your display. They can give your customers new methods to interact with your company and check out your products.
If you're seeking for someone to assist you with creating 3D engineering animation videos, we can assist you. Dream engine animation studio, Mumbai specializes in using virtual 3D engineering animations to create futuristic experiences. Contact us right now!