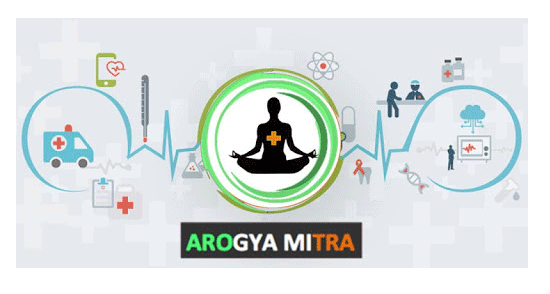 overview
In recent times due to the pandemic, the requirement of medical facilities has reached soaring heights. Getting information relating to health and well-being is very crucial. Arogyamitra Techmed Pvt Ltd came up with an innovative concept named as  Arogyamitra online app.  It is a map-based healthcare app that positions essential medical services within eyeshot. It is one of the best healthcare applications which provides services like  Booking Doctor's Appointment,  Diagnostic Tests and Scan Booking, Online Ambulance Service, Online Pharmacy.
In this app, you can check out any doctor's profile in OPD charges in advance and give yourself a little peace of mind, book diagnostic tests such as scans or blood tests with trusted laboratories and scan centers where you can choose test timings according to your convenience and also know their cost in advance.
Arogyamitra ensures that you know Doctor's availability, experience, fees in advance and get pre-booked appointments wherever and whenever you want.They also offer discounts and cashback on online payments. one can also earn Arogyamitra health cash every time you share their app link to your friends and family.
key features of arogyamitra
The best part of the Arogyamitra App is their home collection service, you don't need to go to the laboratories for giving blood samples, and here you can book an online ambulance service in times of emergencies and ensure fast medical help for your loved ones without any time delay.  You can Track your ambulance on the map with the apps track service with an option to select an ambulance type with cost approximation. You can access trusted pharmacies on the online pharmacy service of this app and order medicines at a great discount without visiting the stores, you just have to upload your prescription or type the medicine name in the search box and you're done. The special thing about Arogyamitra App is you can get access to famous Dietitians, Gyms, Yoga centers, and Personal Trainers in the Stay Healthy section. 
The user interface of the Arogyamitra app is so simple that even the less educated can use it with ease. Now the people living in rural areas can also book prior appointments and avoid unnecessary traveling to the city  when the doctor is available in the palm of their hand with the help of Arogyamitra app .
drawbacks for Arogyamitra
Providing such particularly essential services through an app basically was a  great work done by Arogyamitra Techmed Pvt Ltd but imparting knowledge about the app to the general people who mostly vary from different backgrounds and cultures basically was a mammoth task. Especially to the people who were from the rural section and minimally educated in a generally big way. The Company needed a huge group of users, To make a sort of good position in the market but it generally was only really possible when people would particularly come to essentially know about The Arogyamitra app and its mostly uses and also the instructions to use the app in a subtle way.
Quick fix by dream engine animation studio
As the management of Arogyamitra wanted a tool to promote their app, this is when they approached our Dream Engine Animation Studio, Mumbai in regards to this purpose. Accordingly, Our brilliant team of illustrators at Dream Engine Animation Studio, Mumbai made the finest app explanatory video which was easy to grasp and make the app feel essential in everyone's day-to-day life. The explanatory video created by Dream Engine Animation Studio, Mumbai helped in the marketing and promotion of the company, and also the company's management displayed the screenshots taken from the animated video by our team, in the apps images section on the play store. 
The Company needed a strong component for the marketing purpose of their Arogyamitra app and also a tool that could explain and would spread awareness about this new concept among the people and exit their burden about medical-related things. So the App explanatory animation video made by our Dream Engine  Animation Studio, Mumbai worked excellent to overcome the company from their marketing problems and helped serve the purpose. 
The Animated video built by Dream Engine Animation Studio, Mumbai was also used by the Arogyamitra Techmed Pvt ltd for promotion on their various social media platforms and also posted the animation video on their official website.
https://youtu.be/WcyAnRpNOY8
closing
Our Dream Engine Animation Studio, Mumbai works with full dedication and innovative ideas on every single project by giving our whole and soul. 
Click here to check out, other explanatory videos made by Dream Engine Animation Studio, Mumbai.
If you're looking out for similar animations, explainer videos, graphics, and related content feel free to contact us at +91 9967533844 or visit our services page here. Our team at Dream Engine Animation Studio in Mumbai is available almost 24/7 to help you with your requirements. 
Check out our Facebook / Instagram/ Youtube pages for the latest works and more insights. Don't forget to like/follow and subscribe if it amazes you. 
And Yes "We promise, you won't get disappointed after checking Dream Engine Animation Studio, Mumbai's work. We Guarantee You !!!"…