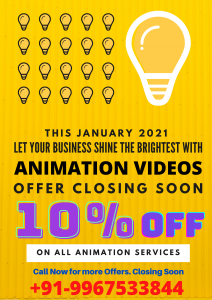 Looking for a with best 2d and 3d animation studio in mumbai
Wouldn't you like to work with such a team?
If you dont engage your customer, you tend to lose them.
Does your ambitious business needs a vast self explanatory reach?
The Approving authority for your project is busy and doesn't have a fixed schedule?
Send them a self explanatory Animated video.
Now are you looking for

Best 2D and 3D Animation studio in Mumbai

 that can handle all types of animation requirements?
We know it's a smart, busy and a competitive world out there. So, at our Animation Studio in Mumbai, to be above the league, we use the power of 3D and 2D Animated Videos to grab attention, keep the audience engaged, transmit and share your ideas quickly, and be remembered, by making a lasting impression.
Whether you're looking for a full 3D virtual environment of your upcoming industrial site or a simple 2D cartoon animation, Dream Engine Studio LLP is your one stop shop.
We're one of the most skilful and competent best 2D and 3D Animation Studio in Mumbai, so whatever is your requirement, we can go along with you through the process of presenting 3D Visuals.
Ambitious schedules or competitive budgets? Any queries? Don't have a 3D model of your product? You can now get a 3D model, specially tailored for your company needs.
Few of our shareable work
Why Animations and Why us?
If you need animation for your website, video or presentation, our Animation Studio in Mumbai can design and create compelling animation that meets your specifications.
From years of service to the various Industries, we have learned that Entertainment combined with Engagement would give your business the right results. And Animation is something that has always guaranteed a second look from millions and millions of content available online.
Our Animation Studio is capable of delivering outputs that reflect high quality efforts and thought process, combined with the right camera angles, sound effects and editing. In this competitive market, clients always seek work on a tight deadline.The best part about our Animation Studio in Mumbai is that we have the best turnaround time, when compared to our competitors, this is all because of the Team's capability to deliver products on deadlines. Every project taken on board is carefully evaluated to develop realistic timelines, thus enabling us to deliver projects on tight deadlines.
On an average our Animation Company delivers a minute or two minute long whiteboard animations in just 8 to 10 working days, 2D animation outputs within 15 to 20 working days and 3D can be delivered within just 20 working days. As a creative team, we also engage equally in developing healthy professional relationships with trusted clients as well as our partners in business.
Different Animation Services
Our Animation Studio in Mumbai is the best source for following types of outputs:
Architectural Visualization Creation or Architectural 3D Walkthrough Animation Video
Best for visualizing the project even before it is completed. You can simply showcase your plan to thousands and millions of prospective customers out there in the market.
Mechanical Animation Videos/ Engineering Animated Video/ Technical Animation Videos
Such Animation videos are best to showcase your work/work process which is not easy to view with naked eyes or can be shot by hi tech video camera. 
Process Explainer Video/ Production Pipeline Animations/ Infographics Video/ Motiongraphic Video Creation
Such animation videos services can be used in both the type of animations namely 2D and 3D Animation. The businesses can demonstrate their newly formed website and its usage. 
Pitch Project Videos
Best suited for new businesses or businesses pitching a new project to companies. These videos are a lower version to what we are capable of. These are budget friendly low cost animation, we introduced this new animation service for the first time in the market. Because pitching for a project can be very decisive thing to look for, hence these budget friendly animation service can give your ambitious project a new approach.
App Promotional Videos/ App Explainer Videos Animations
With new apps being launched every day, Our Animation Studio Mumbai suggests the developers to go ahead with app promotional explainer animation video service. They help your audiences to better understand the app and retain them as regular users. 
Logo Animation Videos/ Logo Reveal Videos/ Company Introduction Animation Video
With the rise of daily high internet usage, there has been an ascent in the content creators on social media platforms like YouTube, Facebook, Instagram, and others alike. To showcase the content, one needs a brand identity, these brand identities come from logo animations. Well companies can use these logo animation services to introduce themselves in presentations, in expos, before any training videos that they provide on social media platforms, etc. It is a must have for every company
Medical Animated Videos/ Surgical Videos
Medical Animation Service plays an important role in the Medical Industry. Surgeries and Operations cannot be showcased live to everyone. Hospitals, Medicine Professors can use Medical Animated Video Services to showcase how a procedure is done before practising on a live subject.
Whiteboard Style Explainer Animations/ Scribe Animations
One of the most renowned animation services for its budget friendliness, quick creation and ease of understanding. 
Animation Process
For any type of 2d or 3d animation service in Mumbai or abroad, we use the following process:
Quick Discussion about the project over Conference Video Call or in Personal
Scripting, Storyboarding and sketch, based on the discussion
Voice Over
Asset Creation and Approval
First Cut Preview of Animation
Final Rendering and Animation
Editing and Composition
Submission
As simple as it seems.
Considering all the above points, animated videos have been the best marketing tool so far in the market. It has the Highest ROI. Our creative and professional team at our Animation Studio in Mumbai will make sure your business reaches the right audience with the right marketing animation videos.
Still have any queries? Please feel free to connect with us for a quick coffee session.
Check the special issue of
Grandviewresearch.com
about the animation industry. The report is an old dated one but facts and key notes stay the same till date.
For latest report on Future with Animations, one can check the
Businesswire.com
it gives a brief overview and for detail information the report, the same content can be brought from
Researchandmarkets.com